If you have come to this review hoping to see that my opinion of Netflix' series has improved dramatically with The Reptile Room, then it is my solemn duty to tell you…
…CONGRATULATIONS, YOU'RE IN THE RIGHT PLACE!!!
(Beware the spoilers for Episodes 3 & 4.)
Wow.  WOW.  I loved both parts of "The Reptile Room" so very much!
Neil Patrick Harris' performance as Count Olaf improved.  He strikes a better balance between menacing and humorous.  When he arrived at Uncle Monty's house, confronted the Baudelaires, and wound up chasing them through the house with his knife, I could actually feel myself tensing up.  I've read the book, I knew he wasn't going to kill them, and yet I found myself thinking, "Oh no, I really hope he doesn't figure out the trick of how to get into the Reptile Room!  Get out of there, Baudelaires!  Get some place safe!"
I knew they'd be okay.  I knew that if the show just followed the book, nothing would happen until Uncle Monty returned home.  And yet, as Olaf banged on the door to the Reptile Room, I kept thinking, "He's going to figure it out and turn the knob any second now!  He's going to figure it out!"
Although it's not accurate to the book, I loved Jim Carrey's performance as "Stephano," so I didn't Harris could possibly top it.  I don't know if he topped it, but he did at least match Carrey with his equally hilarious accent.  That in itself is a feat.
Then there's Uncle Monty.  Aasif Mandvi gives such a perfect performance and I love what Daniel Handler and the other writers did with Monty's character.  I liked him well enough in the book.  He's one of the only decent guardians that the Baudelaires ever meet.  In the show, however, he gets to be even more intelligent, courageous, and kind-hearted than before.  He knows that Stephano is evil from the get-go and does what he can to help the children feel safe.  He obviously loves the Baudelaires and completely understands why they don't trust him at first.  He also gets to take down the two white-faced women when they try to kidnap him at the theater, and then stops Stephano from kidnapping the Baudelaires just in time.
Speaking of the Baudelaires, I like how they don't completely warm up to Monty at first.  They're still recovering from their horrific experiences at Count Olaf's.  So when Mr. Poe sends them to live with a complete stranger again, it makes sense that they'd question once again why they've never heard of their parents' friend, Dr. Montgomery.  He responds with a very sweet little speech about reptiles: that there are plenty of dangerous ones out there, but that you can learn to spot the signs that tell you which ones are friendly.
It really says something about an adaptation of a tragedy when you know exactly what's going to happen, but you still find yourself wishing that maybe, just maybe, this time it'll end happily.  Granted, Lemony spends the entire time reminding us that Uncle Monty will die.  I responded in a very appropriate manner: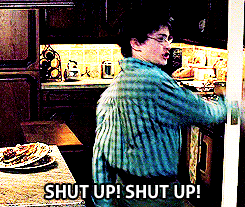 (Gif taken from GIPHY)
Unlike the Bad Beginning episodes, I liked the additional ties to V.F.D. placed within the story.  Here, they do make a sincere attempt to help Monty and the Baudelaires by warning them about danger.  It's just that Monty misinterprets just how dangerous "Stephano" is.  The scene where he uses the code to find the message in the subtitles for Zombies in the Snow is a lot of fun.  (S0 is Zombies in the Snow– now THAT is what I'm looking for when I want to see Stylistic Suck.)
In "Part 2," there are a few more significant deviances from the book, but they don't really hurt the story.  First, the Baudelaires quickly pick up on the fact that "Nurse Lucafont" and the "investigators" that come to the Reptile Room are actually Olaf's troupe.  They just can't prove it to Mr. Poe (of course).  There's a seriously funny exchange between Mr. Poe and Klaus over why they couldn't possibly be people in disguise.
Second, well, the entire troupe comes to Uncle Monty's house under the pretense of investigating his death, instead of the hook-handed man by himself.  Again, I don't mind, because they're funny.  They continue to act not quite as evil as they act in the books.  I laughed watching them get absorbed in Violet's summation of how "Stephano" killed Uncle Monty.  They know exactly who did it and why, but they're still so intrigued by her deductions.
Third, because the entire troupe's there, Olaf doesn't panic when Mr. Poe realizes his true identity.  Why would he?  His troupe easily outnumbers Poe and the Baudelaires.  But then the reptiles come to the rescue of the children.  This is great partly because it's heartwarming and partly because Handler took care of a plot hole before it became an issue.  That doesn't always happen in adaptations.  It doesn't even always happen in this adaptation.
Finally, there's the role of the Incredibly Deadly Viper.  This one's pretty interesting because the movie made the exact same story change.  In the book, Dr. Lucafont tells everyone that he found traces of the Mamba du Mal's venom in Uncle Monty.  The children have to prove that Olaf injected the venom into Monty because the snake has different ways of killing its victims.  In the movie and the show, everyone except the Baudelaires believe that the Incredibly Deadly Viper killed Monty.  It's the children's job to prove that the Viper is friendly.  Although, in the movie, that's all they had to do.  The show tries to add content from the book by also showing Violet searching Olaf's suitcase for what did kill Monty- venom from the Mamba du Mal.
And last but not least, I think these episodes did a better job with Mr. Poe's characterization.  I found him to be a little too clueless and insensitive in Bad Beginning.  Although he doesn't see anything suspicious about Stephano or the "investigators" in the Reptile Room episodes, he's a lot more skeptical of their findings.  That's not too far from the book, where he actually apologized to the Baudelaires for not believing them about Olaf.  Yes, he's mostly unhelpful throughout the series, but he does have his moments, such as some scenes in The Wide Window.  It'll be interesting to see how those episodes play out.
Speaking of which, tune in next time for my thoughts on the episodes about The Wide Window…