(I'm posting this review before I post the review of the 1992 movie because I'm still trying to get my thoughts in order about that one.  Sorry, guys!)
Once again, we see Stoker's Law of Inverse Adaptations in play.
My friend, Alie, warned me about this one ahead of time.  I figured I was in for the same old mistakes: Lucy acting like a flirt, Mina falling in love with Dracula, Jonathan being a jerk, Dracula being a sympathetic antihero, etc.  But that's not quite what happened here.  All of the typical mistakes got exchanged for brand-new ones.
In this version, the plot is set in motion by Arthur Holmwood and an evil cult that wants to bring Dracula to London.  Arthur wants to marry Lucy, just like in the book.  Unlike the book, he learns after proposing to her that he inherited syphilis from his late father, and if he has sex with Lucy, she'll get it too.
Since there's no cure except prayer, Arthur decides to contact an evil cult, who give him the idea of bringing Count Dracula to London, because an immortal vampire might be able to cure him of his syphilis.  They contact the firm of Mr. Hawkins, who sends Jonathan out to meet the Count, and as you can imagine, things don't go according to Arthur's plans.
I can't help but wonder if the screenwriter, Steward Harcourt, looked at Coppola's Dracula and said, "Okay, instead of making Lucy a jerk, why not make her boyfriend the jerk instead?"  That's basically what happened.  Lucy's not as innocent as she acts in the book because she makes it clear that she wants to consummate her marriage to Arthur as soon as possible.  But she is a very kind-hearted character who comforts Mina while the latter cries and worries about the missing Jonathan.  It's easy to see why these two are friends.
Part of me feels bad for criticizing Arthur because he's clearly under a lot of stress, but boy did his character take a beating.  In the book, he is a man who loves his fiance so much that he leaps at the chance to give her a blood transfusion when she's sick.  He's close friends with Quincey (who is missing in action once again) and Dr. Seward, so much so that he feels embarrassed about asking Dr. Seward for help because they both wanted to marry Lucy.  In the movie, he refuses to tell anybody about his syphilis or his connection to evil cults, to the point that he holds poor Dr. Seward at gunpoint until Seward agrees to give his own blood for the transfusion.  Wow, Art.
The syphilis also affects his relationship with Lucy;  he constantly makes excuses for why he doesn't want to be around her and snaps at her every time she suggests sex.  I know that sounds like it makes sense on paper, but the way he constantly tells her to do what he says, without explaining why, is verbally abusive.  Here I was, ready to root for this Arthur since he's played by Dan Stevens, aka Matthew Crawley.  But he's too hard to like until the very end when he goes through some character development.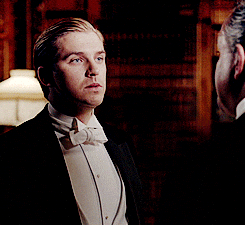 (Gif taken from GIPHY)
Sorry, Matthew.  I still like you!
The involvement of the evil cult is the biggest change to the story, and it bleeds into other plot changes as well:
1) Jonathan does not survive his trip to Transylvania.  Fortunately, this is not an example of Murder the Hypotenuse, because Mina never stops loving him.
2) The evil cult also kills Jonathan's boss, Mr. Hawkins, to cover their tracks.
3) Van Helsing is not Dr. Seward's mentor.  He's a man with an interest in pre-Christian religions whom the Evil Cult hires to find out if vampires still exist.  He discovers Dracula and goes from being the Count's prisoner to a prisoner of the Evil Cult.  Neither of the groups can kill him because he has the protection of the Cross.  Dr. Seward eventually rescues him and that is their first meeting.
4) The mystery isn't, "Who/what killed Lucy Westenra?" because she dies in the span of two nights.  It's more like, "What was Arthur doing that caused Lucy's death and what's this evil cult doing?"
5) Arthur eventually repents after Lucy's death and dies trying to protect Mina from the Count in the final fight.  Dr. Seward stakes Dracula in the back while Van Helsing uses the Cross.
6) Mina never drinks Dracula's blood.  He almost forces her to do it, but gets distracted when he realizes that Lucy got staked.  So Mina kicks him and runs away.  THAT'S MY GIRL! 😀
7) WHEREFORE ART THOU, MR. QUINCEY P. MORRIS???  Mr. Renfield doesn't appear either. 😦
So, with that in mind, it was interesting to pick up on all the bits that they did include from the book.  These include: Dr. Seward being Lucy's suitor, not Mina's father, that Lucy and Mina like to vacation in Whitby and that's where they first encounter Dracula, Dracula has the ability to change from an old man to a young man, Hawkins has a sweet, fatherly relationship with Jonathan, Mina and Jonathan are deeply in love, Lucy and Mina like to sit in the Whitby cemetery and Lucy even tells Mina a variation of the story that Mr. Swales tells them about one of the graves in the book.
There's also a stronger religious theme in this movie than in other versions.  Dracula cannot attack anyone wearing a Cross around their necks.  When he first goes to attack one of the women, he picks Lucy over Mina because Mina is praying the Rosary.  The evil cult is basically a group of devil worshippers and Dr. Seward says they have a "black altar" in their headquarters.  (And by the way, the inverted Cross is the Cross of St. Peter.  It's not supposed to be an evil symbol.  If people, especially moviemakers, could please stop treating it like one, that would be beautiful.)  When Arthur asks Seward and Van Helsing how they can possibly defeat Dracula, Van Helsing replies that their best weapon is their faith.  I'm not a perfect Christian or anything, but I love my faith, so I actually appreciated the symbolism for the most part.
I feel like Marc Warren, who played Dracula, did his best with the material given to him.  The problem with him is that he's so over-the-top creepy in the beginning.  He doesn't give Jonathan much of a welcome; he just shows him to his room and tells him not to leave it.  In another scene, he sniffs Mina's picture in front of Jonathan.  This might just be my own personal interpretation, but I felt that Dracula was always subtle around Jonathan, so that it took him a couple of days to suspect that something was wrong.  That's not the case here, and I prefer the book version.  The gradual descent into the Worst Business Trip Ever while constantly questioning one's sanity strikes me as a lot scarier.
Finally, surprise, surprise, I'm still not completely satisfied with this version of Mina.  She's better in a lot of ways, but she refuses to help the heroes for a long time because she's grieving over Jonathan and Lucy.  At least I can understand her motive this time around and she does get to participate in the final fight.  She gets captured during said fight, but at least she's involved and not actively trying to thwart the other heroes.  And, to be honest, I almost cried at the end when she decided to honor Jonathan's memory by traveling to places he would've liked to have visited throughout Europe, instead of grieving.  That's beautiful.  It also suggests some positive character development for Mina.  Previously, she admitted to Lucy and Dracula that she liked to revisit old places where Jonathan went and even slept in his bed to feel close to him.  By the end of the movie, she's moving on while still remembering him in a healthier way.
A lot of the changes are weird.  The scene where the heroes stake Lucy is a little goofy since it ends with Lucy stretching herself out and kind of…letting Arthur stake her, I think?  Did I see that right?  I wouldn't call this movie a faithful adaptation of Bram Stoker's novel.  But it could have been so much worse, as you shall see…